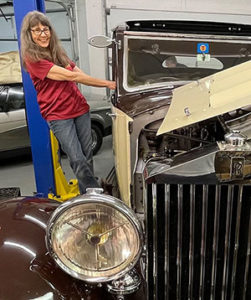 Lisa R. Daniels has been creating automotive themed artwork since before she could drive. For a number of years she worked with exotic sports and classic cars. In 1993, she left her service and restoration business and began working at her art full time. Many of her paintings have been created for auto shows, such as the Keels and Wheels show in Seabrook, TX and the Thousand Oaks Car Classic in CA. Posters, program covers, advertising, t-shirts, and trophies and have all featured Lisa's art.
She designed ladies silk scarves and men's ties for the Dallas Symphony Orchestra League Concours d'Elegance and for the Classic Car Club of America.
Her artwork has appeared on covers of Rolls-Royce Owners Club and Classic Car Club of America publications. And Lisa has created 13 paintings that have been turned into prints for the Rolls Royce Owners Club Stores.
Lisa R. Daniels is a member of the Rolls-Royce Owners Club, Phantom III Technical Society, Classic Car Club of America, Red River Triumph Club, Pantera Owners Club of America, Wooden Boat Association, North Texas Norton Owners Association member, the Antique and Classic Boat Society and a Porsche Club of America member.
She drives, restores and maintains classic, neo-classic, and special interest autos.